Description
KW Dynamic Damping Control (DDC) ECU
The KW DDC coilovers are part of the KW iSuspension program – the intelligent suspension solution. They combine the advantages of an adaptive damping system with a vehicle-specific aftermarket suspension solution. There are two versions available:
KW DDC ECU with the option of using KW's App control
KW DDC Plug & Play for selected vehicle models with factory adaptive suspension
The adaptive KW DDC ECU coilover kit allows adjustment within the TÜV-tested lowering range. The dirt-resistant trapezoid thread and composite collar allow for years of adjustability and ease-of-use. Lowering can be done via the composite spring collar on the shock body, or the height adjustable perch in the rear of the vehicle.
All over the world, drivers, car manufacturers, and car customization shops rely on KW technology "Made in Germany". Each KW coilover kit is produced at our headquarters located in Fichtenberg, Germany. During the production process each kit is subjected to extensive stress tests and must meet the high quality standards set by KW — and surpass OEM quality. A 5 year warranty is provided when the kit is installed at one of KW's Authorized Dealers.
Electronic Damper Adjustment for Better Ride Control & Comfort
Combines Advantages of KW Coilover Kit
Optional App-control (TBA)
3 Damping Settings: Comfort / Sport / Sport+
Control Damping Settings by Button Fitted to Dash or Center Console (or by Optional Mobile App & WLAN Module, TBA)
Create Personalized Setups with the KW DDC Mobile App (TBA)

KW DDC Control – 1 Button = 3 Options
The contents of delivery of the KW DDC ECU coilover kit includes: a "KW DDC multi-selection button". This button allows the user to select between the different KW DDC driving modes "Comfort", "Sport", and "Sport+" directly from the cockpit. Here the KW DDC button will change color depending on the KW DDC App.
Structure and function
of a KW coilover kit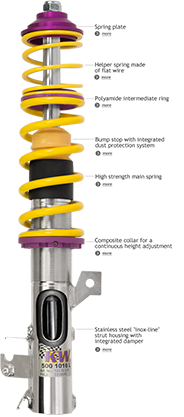 A KW coilover with its 100 percent corrosion resistant stainless steel strut housings can be height adjusted at all times. With our dirt resistant trapezoid thread and durable composite height adjuster collar adjustment is possible after many years of driving pleasure. The polyamid composite collar:

In contrast to anodized adjustable spring seats made of aluminum, at KW we use a durable polyamid composite collar with a stainless steel insert. So even with the influence from dirt particles, such as brake dust or sand grains, the polyamide composite collar will not be damaged.
KW tool kit included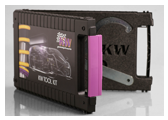 Each KW coilover kit comes with a practical KW tool kit, consisting of:
– TÜV-certificate
– Installation- and adjustment instructions
– Spanner wrench
Electronic Damper Adjustment
Flexibility and Advantages of KW Coilover Kit
Optional App-control (TBA)
3 Damping Settings: Comfort / Sport / Sport+